Beyond the Bench: Chris Stevenson
Chris Stevenson saw coaching as a way to give back.  
Giving back, though, meant more about the opportunities for kids than simply developing on-ice skills.  
"I wanted kids to have a fair shake – there's a lot of politics in hockey, so I wanted it to be about getting what you earn, holding everyone accountable, and letting kids earn everything they get," the outgoing Under-16 Mississauga Senators' head coach shared. "I wanted to blend everything I've learned from coaches I've had as a player and relay it the best I could while making sure regardless of background or wealth that whatever they did and whatever work they put on the ice, they got rewarded for it on the ice."  
Prior to standing on the bench, Stevenson grew up playing in the Greater Toronto Hockey League, spending the last five years of his minor hockey career with the Senators' organization. Stevenson then moved on to Junior A with the Streetsville Derbys before rounding out his playing days at the Junior B level with the St. Catherines Falcons.  
Trading in his equipment for a clipboard and whistle presented challenges that once again centred on people rather than drawing up plays.  
"It's dealing with all the different personalities of players but of parents as well," Stevenson explained. "It's knowing the politically correct way to handle both and quite honestly, through my experience with it, I've learned that honesty is the best policy."  
"They might not like it in the short-term, but in the long-term, they respected it and if you want to be a hockey coach long-term in the GTHL, I think that's the best motto because if people know you're honest, you're going to have longevity – people can always respect you for that," he continued.  
Honesty, hard work, and accountability were the pillars that saw Stevenson start with seven- and eight-year-olds through to 2022 OHL Cup champions.  
"It's cliché to say but seeing the growth of them off the ice as well as on the ice – I could see my personality grow through them as they got older, seeing the sarcasm that I had with them at a young age come through in their personalities as they got older, to me, was the most rewarding, and obviously the development on the ice and the hard work."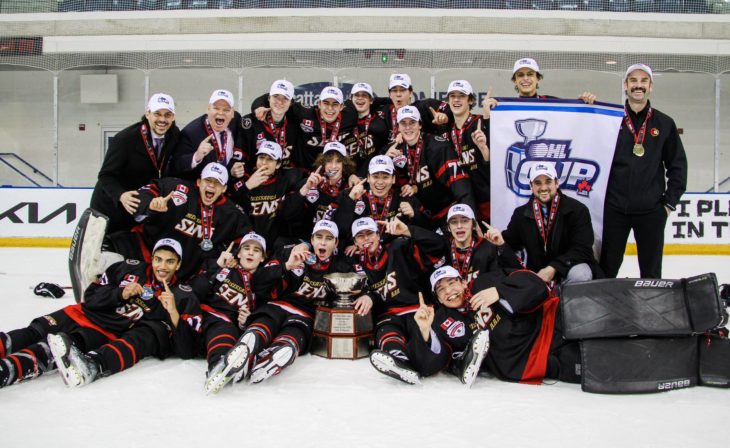 Along the way, Stevenson had two kids of his own – life experience he recognizes changed him as a coach.  
"I was probably harder on them when they were seven, eight, nine and 10, than I was at the end from becoming a parent myself – I think it really softened me to the feelings of kids," Stevenson, who has a three-year-old and welcomed his second just before the 2021-22 season began, shared. "Not that I didn't have the human aspect of it, but I cared about them even more and when you have both of those two things – where you hold them accountable and push them, but you also care about them individually, I think that's the secret recipe to being a good coach and team success."  
The success felt by many, including first and second overall Ontario Hockey League selections Michael Misa and Malcolm Spence, didn't come without adversity in the final chapter.  
The 2021-22 U16 Senators experienced their first tournament loss in seven years. It was also the first season that the team lost in the playoffs, falling short of the GTHL Final.  
"To see that group really bond together and just focus on getting into the OHL Cup, never mind winning the OHL Cup, was a surreal ending to a storybook seven years with the team," Stevenson reflected. "I said it was the ending I never realized I needed until it was over but it really was because getting to see them face adversity and battle through and come back in the most important tournament of their minor hockey league careers, was the perfect ending."  
In a sport where winning is often overemphasized, Stevenson believes in what adversity can ultimately produce in hockey and in life.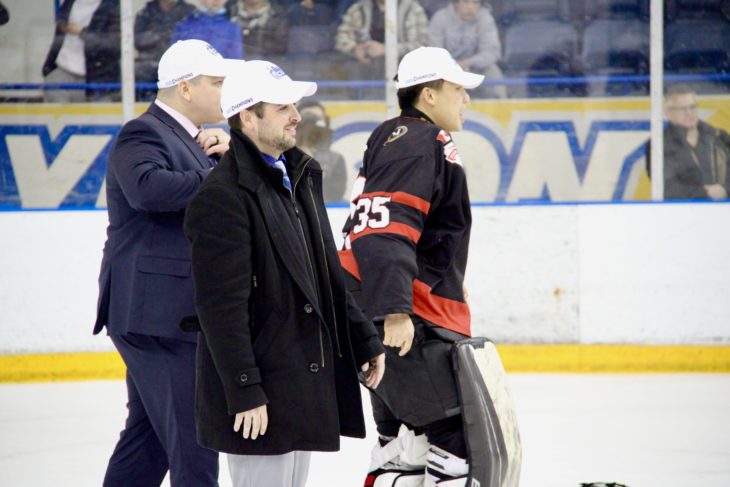 "It's really important to get what you earn," he explained, adding his biggest fear for players and families in hockey is the focus on promises and the need for those promises. "My team for example was willing to play different positions, willing to get what they earned, and I think that is the biggest thing that prepares them for the next level."  
"Everything takes time, you have to be willing to fight through and put on a happy face and keep battling because honestly, happiness and work ethic are contagious and will be what gets you far in hockey and in any aspect of your life."
For hockey parents, time is the main thing Stevenson hopes they focus on. 
"Enjoy it because it's over really fast," he offered, adding that parents sometimes are too focused on wins and being on the best team. "Just try to get your kid in a place where they can work for what they earn and are held accountable, and just enjoy the fact that they play such an amazing level of hockey. Once they grow up, you don't get that back."  
Looking ahead, Stevenson has decided to take the 2022-23 season off, focusing on spending more time with his wife and kids, but it's not without the feeling of seeing his team off with what he hopes are his players' takeaways.  
"I hope they see a guy that put in the work, cared, and worked as hard as they did," Stevenson said. "I want them to see that I really tried making them a better person and a hockey player, and I hope I made them love the game." 
---
Stay connected with the GTHL on Facebook, Twitter, Instagram, and TikTok.