Congratulations to Raoul Fortier, winner of My Hockey Hero Essay Contest presented by NewAge Products
On Saturday, October 21, NewAge Products recognized Raoul Fortier as the winner of the My Hockey Hero Essay Contest as part of GTHL Puck Drop Weekend festivities.
Raoul, hockey volunteer for over seven years and current head coach of the Under-12 George Bell Select team, was the focus of an essay submitted by Isabelle Faucher. As the winning submission, Raoul is the recipient of the Pro Series 8 Piece Cabinet Set ($3500 value) courtesy of NewAge Products.
NewAge Products is Toronto's premium manufacturer of best-in-class solutions to organize and beautify living spaces with garage storage systems, outdoor kitchen solutions, and incredible organization and entertainment ideas for inside the home. Visit their North York showroom at 1190 Caledonia Road.
My Hockey Hero 
By: Isabelle Faucher 
My hockey hero is Raoul Fortier.
Raoul has been involved in youth hockey for over seven years, initially in a Team Manager role for our son's team, and for the last three hockey seasons as head coach of the George Bell Hockey Association Select Team. Raoul coached the U10 team in 2021-22, the U11 team in 2022-23, and is currently coaching U12. 
What makes Raoul a hockey hero is his tremendous dedication to his players and his profound desire to ensure that their hockey experience is a fun and memorable one. This is exemplified by the "Player of Game" award that Raoul put in place last season. Raoul leveraged his woodworking skills to make a bell-themed medallion (a nod to our club's logo), which is awarded at the end of each game to a player that stood out, whether it be in terms of their level of effort, their execution of a particular task (e.g.: keeping to one's position), or another positive aspect of their game. The player keeps the award until the next game. In consultation with the assistant managers, Raoul is careful to ensure that each player receives the award at least once during the season. 
At the end of each hockey season that Raoul has been involved in (either as a manager or a coach), Raoul has taken the lead in sourcing handmade trophies, customized with a special attribute or quality for every player.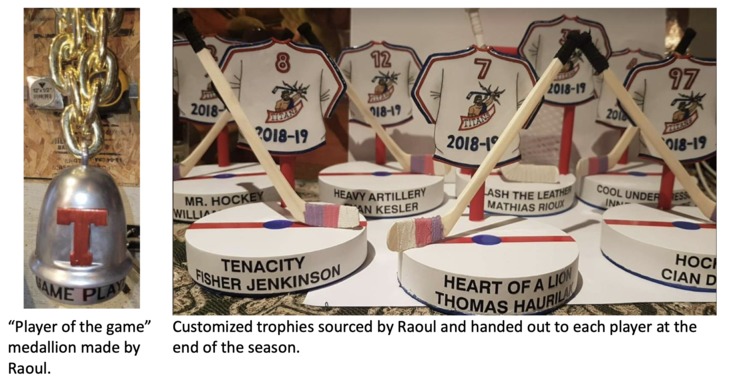 Lastly, at the end of year party for the 2022-23 season, he delivered a speech in which he thoughtfully addressed each player. 
Another reason why Raoul is my hockey hero is the effort he puts into developing each of his players and in helping them grow in the sport. With his drawing pad and erasable marker in hand, he takes the time to explain important hockey concepts, such as offsides, and to provide one-on-one feedback to every player following a game. He always delivers a post-game speech that focuses both on the positive elements of the match, as well as the things that the players need to continue working on. 
Two of Raoul's players have put into their own words why Coach Raoul is their Hockey Hero. 
"Coach Raoul is a hockey hero because he never gets mad at us if we mess up. He just helps us work on that in the next practice. He's really good at seeing what we need to work on and giving us tips to get better." – Body Krauser, 12 years old, coached by Raoul for the past two hockey seasons. 
"Coach Raoul helped me get better. It's not all about the score, hockey is about working together. Our coach has a growing mindset, he says we can always improve and to never give up. I think our coach should win because he always helps all the players improve." – Dimitri Kyrlangitses, 12 years old, coached by Raoul for the past three hockey seasons. 
---