Darren Lowe: Making history to impacting generations to come
By: Jalen Smith-Pelly, GTHLCanada.com 
Darren Lowe fell in love with the sport of hockey at a young age.  
Lowe's father played the game, and much like any kid growing up in Canada, he was surrounded by other kids who shared the same passion for the sport.  
 "I lived in an area where there were a lot of other kids around my age and everybody played hockey on the street," the Toronto native shared. "We were lucky enough as kids, my brother and myself, to live on a street that on both ends there were big parks that had outdoor city rinks, so there was always the option to go and play."  
As a minor hockey player, Lowe openly admits he wasn't a standout player, but he continued to put in the work. Lowe's commitment led to him getting selected by the then Ontario Hockey Association's Kingston Canadians, a league and team now known as the Ontario Hockey League and Kingston Frontenacs respectively.  
"I didn't make the team after two tries, so I focused on the college route," Lowe explained, adding that he played tier two junior hockey and continued to improve, which led to a National Collegiate Athletic Association scholarship. "That's where I think I really took off just with the type of training and practicing regularly. I had a great year, but I was at that point really thinking about school and I always wanted to go to the University of Toronto and play for the Varsity Blues."  
 After a year spent in the NCAA, that desire to be a Varsity Blue pushed Darren to transfer home and attend the University of Toronto. 
"That [decision] progressed my career because we had great teams at U of T. I was successful. I got into the Hockey Canada Program," Lowe reflected.   
Getting into the Hockey Canada Program was exciting because for Lowe, playing in the Olympic Games had become a goal of his as soon as he had begun his college playing career.  
Darren reached his goal and made the 1984 Canadian Men's National Team. With the personal accomplishment, Lowe also made history, becoming the first black hockey player to represent Canada at the Olympics.  
"It was amazing to realize that goal," Lowe shared. "There was a lot of not being sure up until that point."  
The Olympics were a once-in-a-lifetime opportunity, providing Darren the chance to travel Europe and play hockey in places like Sweden, Germany, and Bosnia.  
Playing on the Olympic stage gave way to a brief stint in the National Hockey League where Lowe once again made history, becoming the first black player to play for the Pittsburgh Penguins. Following his time in Pittsburgh, Lowe continued his playing career overseas in Europe for a few years after that.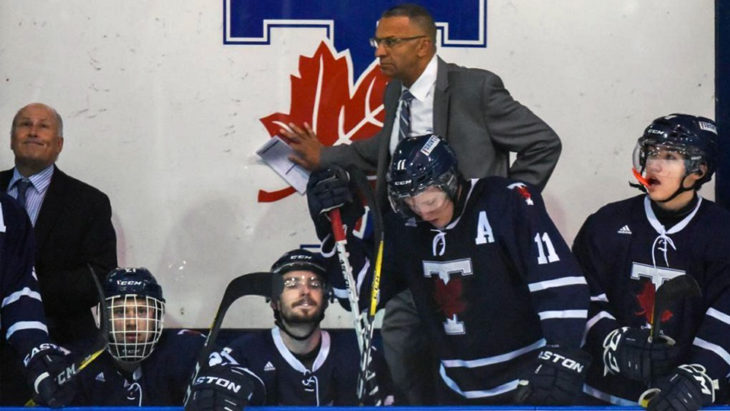 Darren eventually returned home and in 1992 joined his former team at the University of Toronto as an assistant coach. He was named head coach in 1995-1996 and led the Varsity Blues until eventually stepping down in 2017. Lowe reflects on his time on the bench as a fulfilling experience, noting the talented players he was given the opportunity to coach – many that he still keeps in touch with to this day.    
"Just working with the student athletes… their dedication, commitment, and passion to continue to play even though the professional dream might [not be in reach anymore], and balancing education with athletics," Lowe shared of his time with the Varsity Blues. "I got to work with some super people." 
While reflecting on his career, for the history books, Lowe being the first black hockey player to represent Canada at the Olympics is significant. Personally, though, it is an accomplishment that Lowe often doesn't pay much mind to.  
"I certainly have an appreciation for the accomplishment, but I was thinking more along the lines of Willie O'Ree," Lowe explained. "He made quite an interesting statement. He said he wakes up in the morning and when he looks in the mirror, he doesn't see a black man or a black hockey player, he just sees a man. I think I've always been in that frame of thinking. So yes, it's an honour but it's not something I thought about at the time and I don't think about it a lot now." 
Today, Lowe serves as a Director on the Greater Toronto Hockey League Board where he continues to give back and help grow the game he's always loved.   
"I've gained a great appreciation of how the GTHL works and what great work they do, so I'm really fortunate and thankful for this opportunity," Lowe said of his newest chapter. "Somehow, I'd like to stay involved in growing the game. Every once in a while, I get that little bit of an itch of wanting to coach but I know that's probably behind me. If I can be a mentor or somebody that can share and provide the knowledge that I have thus far gained, then I'm more than happy to do so." 
With the many experiences and historic accomplishments collected on his path in hockey, any young player would be lucky to learn from Darren Lowe. 
---