GTHL Awards 2019: John R. Gardner Special Recognition Award
---
GTHL Awards season is here. To celebrate, we will be profiling each of the award winners individually leading up to the ceremony on June 14.
Playing four seasons with the City of Vaughan Hockey Association house league program, Matteo Fiamengo was elated to sign with the Vaughan Rangers Atom Select team back in May. The excitement surrounding putting on his newly crested jersey would sadly be short-lived for the 10-year-old forward. A mere week after signing with the Rangers, Matteo received a devastating diagnosis of Leukemia.
"The weeks to follow were extremely difficult as Matteo began his chemotherapy and the effects of the treatment was taking its toll on him," explained Vaughan Rangers President, Barry Harte. "He found the best cure and ease of pain was to be on the ice with his teammates."
Despite battling the side effects of treatment, Matteo would return to the ice when he could, battling through the physical exhaustion.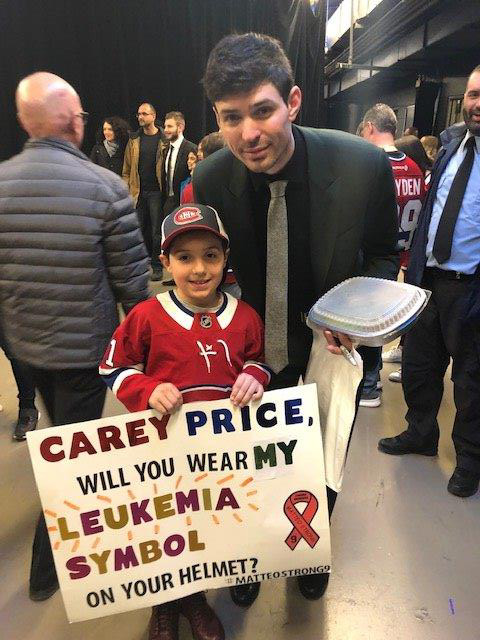 "With his inner strength and determination and the approval of his oncologist, Matteo slowly came out to practice," explained Matteo's mother, Mina. "Matteo's determination and perseverance to find the strength to be able to skate and then ultimately return to practices and participate in the games, while all the while receiving treatments, was remarkable."
Matteo's teammates rallied around him throughout the season, all sporting orange "Matteo Strong" ribbons on their helmets and jerseys to mark leukemia awareness. Matteo's story also touched the hockey community, reaching NHL players such as Carey Price and Auston Matthews. The Vaughan hockey family continues to provide to support to Matteo and the Fiamengo family as they enter the next phase of Matteo's treatment.
"It may be just a sport, but it is these unfortunate circumstances and life lessons that bring a community together," explained Harte. "I am grateful that hockey has been influential throughout Matteo's recovery process and assisted him in his determination and given him the strength to get through each and every treatment."
Matteo is currently in his "maintenance" stage which means three more years of treatment. He will continue to play on the Vaughan Rangers Minor Peewee Select team for the 2019-20 season. Matteo will be awarded with the newly renamed John R. Gardner Special Recognition Award at the GTHL Awards Ceremony on June 14. The award is presented by the Greater Toronto Hockey League to GTHL players (Competitive, Select or House League) who have experienced a significant event in their lives and have managed to overcome the adversity and continued playing the game of hockey.