Inaugural GTHL Moustache Cup set for November 19 in support of Movember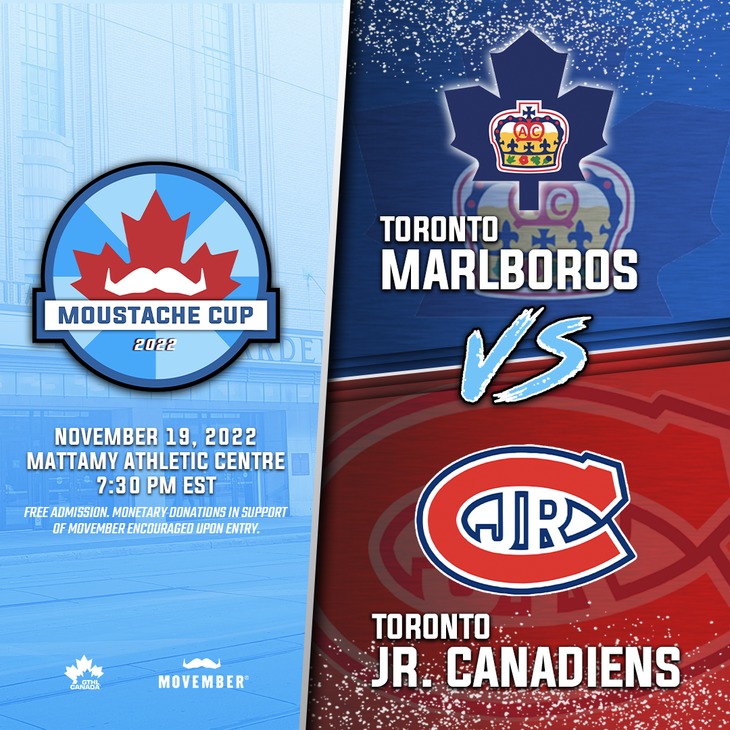 The Greater Toronto Hockey League, in partnership with Movember, will host the inaugural Moustache Cup featuring the Under-16 Toronto Marlboros and Toronto Jr. Canadiens on Saturday, November 19. The puck will drop at 7:30pm at Mattamy Athletic Centre. The game, which will strive to raise funds and awareness for mental health, will also be broadcasted by Hubberd Productions of Toronto Metropolitan University (TMU).  
Admission to the match-up is free, with monetary donations in support of Movember upon entry strongly encouraged.  
Throughout the month of November, members of the GTHL community can also donate using the TipTap stands located in the lobby of Scotiabank Pond. 
Leading up to the Moustache Cup, the Marlboros, Jr. Canadiens, as well as a team comprised of GTHL Officials will be participating in the annual "Movember" event, traditionally involving the growing of moustaches during the month of November to raise awareness of men's health issues, such as men's mental health and suicide prevention, prostate cancer and testicular cancer. To get in on the GTHL Challenge and support the teams, visit the GTHL's Mo Space here. 
"The GTHL is excited about this inaugural event that will serve a multitude of purposes," says Scott Oakman, Executive Director and Chief Operating Officer of the GTHL. "Raising funds for an important initiative, educating sport leaders to enhance their skills to allow them to address mental health challenges faced by young people today, while at the same time, providing young athletes with tools that can help them address their own mental health challenges is an incredible opportunity. The health, safety, and well-being of all GTHL participants is a top priority and this event only furthers that mission."  
Both teams, including coaches, parents/guardians, and players, will also participate in the Movember: Breaking the Ice program. GTHL officials will also be offered a virtual Breaking the Ice session. The program, delivered by Movember, teaches athletes how to start conversations around mental health, recognize warning signs and develop skills to help a friend or teammate who might be experiencing challenges in their life. Parents and guardians learn how to better recognize, understand, and manage mental health struggles in their family, including how to start a conversation when something may be wrong and a deeper understanding of the support channels available.  
For coaches and officials, the Breaking the Ice program helps the individual understand, recognize, and manage mental health concerns among athletes while gaining important skills to underpin youth mental health. It helps coaches and officials recognize the warning signs of mental health struggles and learn how to start a conversation with players and/or parents, while gaining a stronger understanding of their own mental health with knowledge of support channels available.  
"We're incredibly honoured to be a part of the Moustache Cup and – in partnership with the GTHL – shine a light on our Breaking the Ice Program and continue the conversation around mental health in sport, particularly hockey. In the lead up to the game, all players, coaches, parents and officials participating in the Moustache Cup will have the opportunity to experience Movember's Breaking the Ice program firsthand, empowering them to not only play a role in the conversation around mental health, but to be advocates for the positive shift we're seeing in the sports world when it comes to mental health and openness," says Shannon Nix, Mental Health & Suicide Prevention Program Implementation Manager at Movember. "And of course, with it being mid-Movember, it's a timely reminder of the incredible impact fundraising dollars, many of which are raised during these 30 days, are having on communities all across the country, bringing projects like Breaking the Ice to life."    
About Breaking the Ice   
Breaking the Ice uses hockey to teach athletes, parents, and coaches how to talk about mental health. The program reviews how to recognize mental health issues, what to do and when to get help. Athletes learn how to build resilience and overcome challenges in hockey and life. Learn more at breakingtheice.ca.   
About Movember   
Movember is the leading charity changing the face of men's health on a global scale, focusing on mental health and suicide prevention, prostate cancer and testicular cancer. The charity raises funds to deliver innovative, breakthrough research and support programs that enable men to live happier, healthier, and longer lives. Committed to disrupting the status quo, millions have joined the movement, helping fund over 1,250 projects around the world. In addition to tackling key health issues faced by men, Movember is working to encourage men to stay healthy in all areas of their life, with a focus on men staying socially connected, and becoming more open to discussing their health and significant moments in their lives. The charity's vision is to have an everlasting impact on the face of men's health. To donate or to learn more, please visit Movember.com.   
About the Greater Toronto Hockey League   
Founded in 1911, the GTHL is a non-profit organization and the largest minor hockey league in the world. The GTHL registers more than 40,000 annual participants in Markham, Mississauga, Toronto, and Vaughan. The purpose of the GTHL is to govern organized hockey for youth within its jurisdiction, and to foster participation that reflects the cultural demographic of the League's territory while promoting an environment that is welcoming and inclusive for all participants. 
---