Luca Caputi on transitioning to coaching, winning the day, and growing
GTHL grad and Kingston Frontenacs head coach talks coaching mentality, lessons, and more 
Despite being a fourth-round pick in the 2007 NHL Entry Draft, recording 185 points in 214 games in the OHL, playing at the professional level for nine seasons, and now the Head Coach of the OHL's Kingston Frontenacs, Luca Caputi is still described by many as a student of the game.
"No one's perfect, no one knows everything – you're going to make mistakes along the way," Caputi, a GTHL graduate, said of the mentality. "It's growing from those mistakes and understanding that there's a higher level that everyone can get to, whether you're a head coach in the NHL or a junior hockey player, everyone has room for growth."
Caputi knows growth first-hand, starting his coaching career in 2015 just months after retiring as a player. He began as an assistant coach with the OHL's Guelph Storm, where he would spend three seasons before heading east to Kingston. Caputi was an associate coach for three campaigns with the Frontenacs before being named the head coach in July.
"It was something I always wanted to do so I got back in the summer and talked to my agent about testing the waters," the Toronto native explained of the decision to start coaching. "Lucky enough, Mike Kelly – who was my coach in junior – was the [General Manager] in Guelph at the time and there was an opportunity for me. I made the move and I'm pretty happy about it."
Despite holding an advantage of being a young, former professional player, Caputi found important lessons in his first season on the bench.
"Understanding the players' side wasn't difficult for me, but at the same time drawing the line [was]," Caputi, who recorded 107 points for the GTHL's Toronto Marlboros in 2003- 04, shared. "For them to understand that there's a fine line there and for you to understand it too, and know what the boundaries are, was the most difficult part for me early on."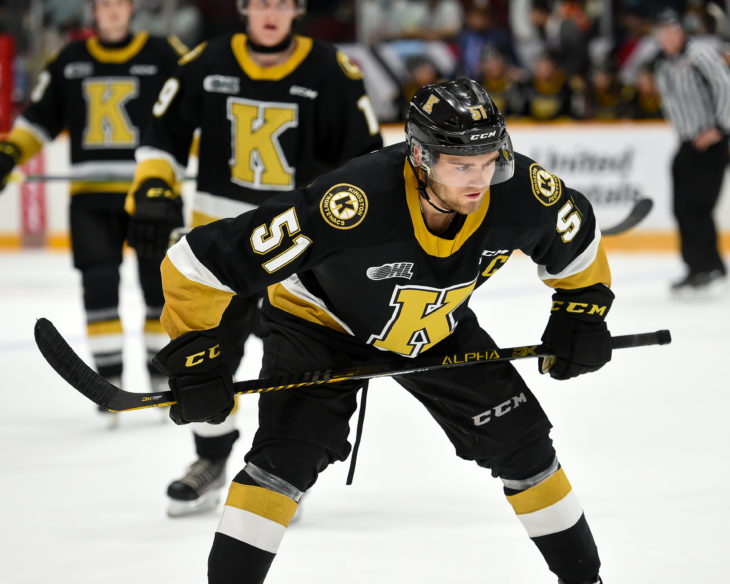 Fast forward to Caputi's second season in Kingston, a campaign that welcomed fellow GTHL alumnus and highly anticipated, exceptional player, Shane Wright. "We're pretty similar with our competitive levels and how passionate we are for the team and for winning," Wright said of his head coach, who he described as competitive, driven, and passionate. "He brings a lot of experience and a lot of knowledge – couldn't be happier that he's our coach."
Now captain of the Frontenacs and projected as the most sought-after pick of the 2022 NHL Entry Draft, Wright echoed Caputi's coaching mentality when reflecting on the biggest piece of advice the former Toronto Maple Leaf has instilled.
"Be competitive every single day and try to win the day – just get a little bit better every single day," the Don Mills Flyers graduate said. "That's something he's preached to us as a team since we got here."
For Caputi, it goes right back to growth – and always getting better.
"At the end of the day, if you can look yourself in the mirror as a person, as a coach, and if I'm getting better, our team's getting better…that's how the individual has to come through the doors," Caputi explained of the 'win the day' mentality. "It's not easy to set that culture, it's something that has to grow over time and you have to be organic with it. It's just something that you engrain in them and then when there's success, you can obviously tip your cap to what you've done."
It isn't always easy, Caputi recognizes, but that's when the biggest lessons come into play.
"Life's not perfect, hockey's not perfect, so when things go sideways, that's when you really test your character. That's when you grow as an individual, as a person, as a hockey player, as a hockey coach," Caputi, who also credits former Mississauga Reps coach and current Seattle Kraken assistant coach Paul McFarland for making him better, said. "If you're coming in a room and you're sucking the oxygen out of it, [you're] probably in the wrong game… if you're in the room, and you're bringing positive energy and finding ways to get better and be lively and be energetic and happy, I think that's the people that grow the most in this world."
"There's a lot of things that life throws at you but we're a family around here," Caputi continued, adding that your personal and work family are there to help – as the Frontenacs refer to it – drag you into the battle. "I believe that when you have that mentality where you're finding ways to bring energy and be positive, good things usually happen to those types of individuals."
The significance of a hockey family roots right back to the early chapters for Caputi.
"Some of my greatest friends and relationships were built through minor hockey," the former Toronto Red Wing and Marlboro reflected. "I played six [seasons] with the same team, same coach [my father], same nucleus – maybe two or three players changed every year – but we were the same team… Toronto Red Wings '88s, a lot of people will remember that."
"That year [U16 107-point season in 2003- 04] doesn't resonate as much as that Red Wings team and how I grew to love the game, how Friday nights at [Chesswood Arena] were a special night for myself and my family and everyone on our team."
Caputi's coaching formula of drive, passion, and belief in growing for your team combined with leading a team with some of the country's top prospects, makes for a winning recipe for success on and off the ice.
 Click here to view the 2021 Fall/Winter Breakout Magazine.
---
Stay connected with the GTHL on Facebook, Twitter, Instagram, and TikTok.