Show them Seaside: Seaside Hockey celebrates community and growth
Seaside Hockey has had lots to celebrate since officially getting off the ground for the 2021-2022 season.  
At the top of that list: the players.  
Seaside's inaugural season saw 76 players registered. This year, that number has almost doubled at 147 registered with the organization's youngest age group.  
Beyond registration numbers, Seaside has grown beyond a practice-only schedule, featuring games and a Select level in 2022-2023.  
One of the many shining examples is Malachi Downey. Malachi is in his second season with Seaside Hockey, playing both house league and on the Under-9 Select Team this year.  
"The first probably five, six, or maybe even seven games, they didn't win a game and now they've started to win," Beth Evans – mom of Malachi – shared. "He was the goalie for the first time [at our game on February 16] and now he really likes goalie instead of defence."  
Getting to try different positions and play games this season is what has painted the feel-good big picture for Beth.  
"It's nice seeing how far they've come – if you saw them last year, they didn't play any games. If you see videos of them training and practicing to get them ready to where they are now, it's an incredible, crazy difference."  
Fellow Seaside Hockey mom Kisha Eligon shares in that very sentiment as she has watched 11-year-old son, Khalif, develop.  
"Just seeing him on the ice, seeing him play, seeing him use all of his skills that he's learned… his dedication and the time that we put in, how it pays off when I watch him in the games. I see him use those skills that he learned at practice and he scores a goal… it's just amazing," Kisha said.  
Also in his second season with Seaside, Khalif's first goal against another team came in December versus Leaside – and it's his favourite hockey memory yet.  
"My friend passed it to me, I rushed with the puck, did handles over the goalie and I scored," Khalif remembered.  
The match-up with Leaside was the first game for Khalif and teammates against a team outside of Seaside. Kisha invited family and friends to take in the excitement.  
"Where we were sitting, if you weren't on Seaside, you had to leave because of how excited we were," Kisha laughed. "We were cheering each other on, cheering the other team on… it was such an amazing opportunity to see the boys and girls have a game against another team, and to know that we have all been there for the Friday, Saturday, and Sunday practices."  
"It was almost like, 'Okay, show them what we are – show them Seaside!'" Kisha continued. "It was very exciting when Khalif scored his goal – of course cameras and videos were all out."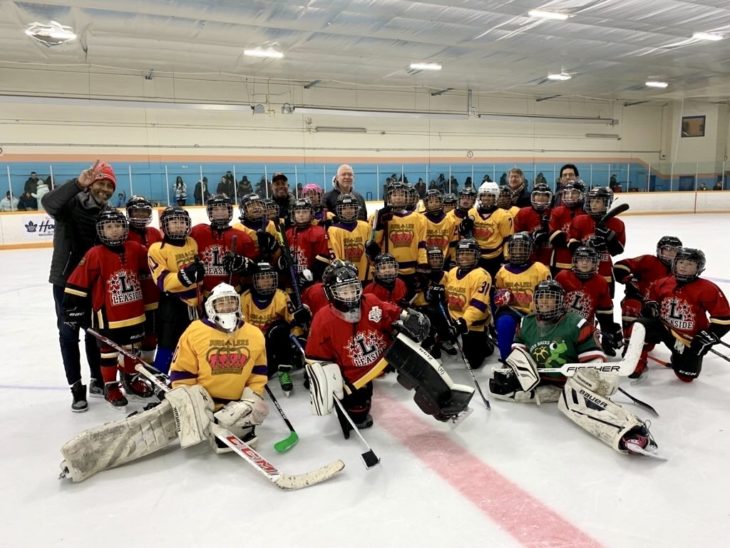 It's that very community atmosphere that has made the experience what it is for all.  

"It's a really tight knit community because we spend so much time together. If you can't take them to the rink, carpooling always works, and for Malachi, his cousins play too, so they usually have sleepovers on the weekends and get to go to hockey together," Beth said.  
"The community is amazing," Khalif shared. "You can make a lot of friends easily and really any race can play the game."  
The heart of that community always seems to find its way back to Coach Kirk Brooks.  
"Coach Kirk was on foot," Kisha shared with a laugh, adding that she originally saw an email from the school principal about Seaside Hockey. "I received that and it checked off all the boxes – in the area, an opportunity for all children, and it had financial assistance. And then that same evening, Khalif came home and was like, 'Mom! This guy was handing out flyers, it's for hockey, can we play?'"  
Malachi's introduction to Seaside followed a similar line.  
"Malachi was at his cousin's house for the night and Kirk convinced him and told him how much fun it would be," Beth explained. "I didn't even know he was signing up until he came home from his cousin's house and his uncle was like, 'Don't be mad but I signed him up for hockey!'"  
Brooks' ability to make a difference extends on the ice just the same.  
"It was one of the first things – he taught me how to bend my knees when I skate," Malachi said.  
Did it help a lot?  
"Yeah, it made me go faster."  
Beyond hockey skills, Brooks has been a role model in other ways.  
"[Malachi] was in the penalty box a couple times for being a bit too rough but he's learned how to control his emotions when he's playing now," Beth explained. "Coach Brooks has helped him with that – he helps him see what he can and can't do, and the rules. It's nice to have it come from someone else to tell him not to do those things, and he looks up to him."  
From role models to the opportunity, it's an all-in gratitude for Kisha.  
"Everything," Kisha said of her favourite part of being a hockey mom. "Being a minority, just watching him carry a hockey bag and a stick is amazing to me – just seeing him on the ice, how far he's come, and not only just the sport, but to know how much it's done for his self-esteem, seeing him make friends with coaches and other teammates. It's the entire thing. It's just amazing to know that you feel like you belong."  
Looking ahead, there's still so much to look forward to.  
"I'm excited to watch him keep developing and the games," Beth said. "Hopefully as he keeps playing, we'll get to travel around for tournaments and all that fun stuff."  
"I look forward to being a hockey mom," Kisha added. "I look forward to the future for him in hockey and I look forward to him keeping at it, getting better, and seeing where it takes us."  
For Malachi and Khalif on the ice, that excitement is all the same.  
"More games," Malachi said of what he's most looking forward to.  
"To play more, and to learn more," Khalif added. "To score goals with your friends and to enjoy the game."  
To learn more about Seaside Hockey, visit SeasideHockey.ca.
---