The Dream Team
---
With the rise of fantasy sports, it's easy to spend hours playing general manager to perfect your team. Grads of the GTHL are no doubt in and out of fantasy line-ups on any given day, but given the opportunity pick your dream starting line-up using only GTHL graduates, who would you choose? It's a tricky question that we attempted to answer.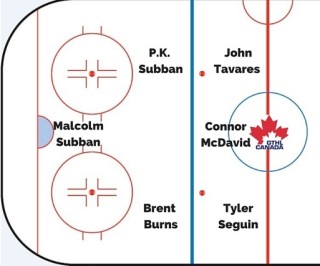 Connor McDavid (Center)
(Toronto Marlboros)
He may only have one NHL season in the books, but Connor McDavid has proven he has elite level talent. Despite missing time due to a shoulder industry, the Oilers rookie put up 48 points in 45 games, earning himself a Calder nomination for Rookie of the Year.
Tyler Seguin (RW)
(Toronto Young Nationals)
Drafted second overall by the Boston Bruins in 2010, Tyler Seguin proved himself as a superstar early on, winning a Stanley Cup during his rookie season. After being traded to the Dallas Stars in 2013, Seguin has put up well over a point per game each season.
John Tavares (LW)
(Toronto Marlboros)
After winning back-to-back gold at the World Junior, Tavares was drafted first overall by the New York Islanders in 2009. He has since been named captain and become the cornerstone of the franchise.
P.K. Subban (D)
(North York Rangers, Mississauga Senators, Markham Islanders)
The first of three brothers drafted into the NHL, P.K. Subban played six seasons with the Montreal Canadiens before being traded to Nashville this off-season. The Norris Trophy winner will no doubt continue to be a fan favourite south of the boarder.
Brent Burns (D)
(North York Canadiens)
Under the giant beard and lack of teeth, Brent Burns is one heck of a denfenceman. During his 11th NHL season, Burns played a major role in leading the San Jose Sharks to the Stanley Cup Final, putting up a point per game while maintaining a plus-11.
Malcolm Subban (G)
(Toronto Marlboros)
At only 22, Malcolm Subban is still developing his game as a goaltender playing the Providence Bruins (AHL affiliate of Boston). Subban was 14-8 in his last 27 games with Providence, recording a .911 save percentage.
The Dream Team – Legends Edition
And what fun is a fantasy line up without a legends edition? Who would you add to yours?

Eric Lindros (Center)
(Toronto Young Nationals, St. Michael's Jr)
A seven time NHL All-Star, Eric Lindros was recently named as an inductee to the Hockey Hall of Fame for 2016.
Mike Gartner (RW)
(Toronto Young Nationals)
During his 20 year NHL career, Mike Gartner claimed many league records including the most consecutive 30 goal seasons at 15 (currently tied with Jagr).
Brendan Shanahan (LW)
(Mississauga Reps)
Currently the President of the Toronto Maple Leafs, Brendan Shanahan earned an Olympic gold medal and three Stanley Cups in addition to many other accomplishments.
Paul Coffey (D)
(Mississauga Reps, Toronto Marlboros, Toronto Young Nationals)
The four time Stanley Cup champion played over 1,400 games during his NHL career, racking up 1,531 points.
Larry Murphy (D)
(Toronto Kings, Toronto Marlboros, Don Mills Flyers, Toronto Young Nationals Jr.)
Drafted fourth overall in 1980, Murphy was a member of four Stanley Cup winning teams during his 21 year NHL career.
Ken Dryden (G)
(Humber Valley, Etobicoke Indian)
Often regarded as one of the best goaltenders of all time, Dryden is a six time Stanley Cup champion and five time Vezina winner.
Browse our graduates and tell us who would be on your dream GTHL starting lineup.