The G is For Giving
---
It doesn't have to be the holiday season for teams around the GTHL to get into the giving spirit. Whether it's raising funds for breast cancer research, volunteering with community groups, or lending a helping hand to those in need, these teams are proving that positive results mean more than just the numbers on the scoreboard.
---
Mississauga Terriers


The Peewee "AA" Mississauga Terriers have earned plenty of accolades for their on-ice performance. For the 2019-20 season, the team has a new goal: have the best season off the ice. The Terriers will compete for the Chevrolet Good Deeds
Cup – a nationwide competition that challenges Peewee-aged teams to give back to their community. The Terriers have put together an eight-week program that helps new Canadians and refugee families learn how to skate.
"This is an opportunity for our boys to sit and meet and share stories with these young players," explained Head Coach, James DeSanto. "The whole thing is a life lesson in acceptance, compassion and understanding. They're lessons that will serve our boys in life in the future way more than the skating lessons they are teaching."
---
Toronto Titans
Led by former Toronto Maple Leaf Darcy Tucker, the Bantam Toronto Titans teamed up with the Toronto Professional Firefighters Association to raise funds for breast cancer research. With two Moms on the team currently battling the disease, the cause hit close to home for the Titans team. By selling pink socks and hats, the Titans raised over $5,000 for the Princess Margaret Cancer Centre.
---
Markham Majors
The Minor Midget Markham Majors contributed to the League's Mental Fitness Month initiative by participating in the Race for Kids in support of mental health programming at Sunnybrook Hospital.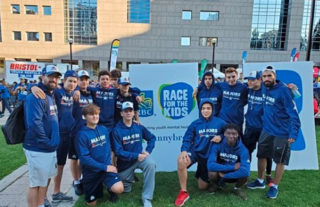 ---
Thornhill Community Hockey
The Atom Red Thornhill Rebels took part in a game of Volt Hockey at Variety Village. Volt is a fun accessible form of hockey that can be played by people with a variety of upper and lower mobility limitations in a specially designed hockey Sport Chair.
---
Over 250 bags!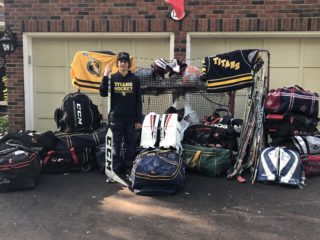 Toronto Titans Bantam goaltender Ethan Kowatsch held an equipment drive for the fourth straight year. The inaugural winner of the Roy Pejcinovski Memorial Goaltending Character Award collected equipment for First Nations youth in Northern Ontario. With the help of Daniel Berton from the West Mall Lightning, over 250 bags, including over 35 sets of goalie equipment, were collected and delivered to Fort Albany First Nations during the 2019 drive.