Beyond the Bench: Mark Weston
Mark Weston has been a coach with the West Mall Lightning for nine seasons. This season, Weston is the bench boss of the Lightning's 'A' Under-18 team.
Weston's time in hockey, however, dates back to his playing days in the then-Metro Toronto Hockey League (MTHL) with the Etobicoke Canucks. While connected to the game standing on the bench so many years later, Weston manages to still lace up the skates as a player as a full-time firefighter in the Toronto Fire Fighters Hockey League.
"They've been having these leagues for years way before I was ever a firefighter. There's a league, they play on Wednesdays in the afternoon. It's a Southern Ontario firefighter hockey league, so it's all the different departments play against each other. Toronto has a couple of teams… Mississauga, Oakville, Newmarket, all surrounding areas," Weston explained.
"When I first started there were three divisions and maybe eight teams in each division, so it's really competitive hockey. And it was good to play the different cities and the different departments."
Weston said it was back in 2005 when his son was playing Under-10 hockey in the Greater Toronto Hockey League (GTHL) when he was asked to step on the bench.
"I guess because of my background as a firefighter, it's an easy transition into the trainer spot. I have First Aid, so I took that on in the first year," Weston said. "Then the next year I became an assistant coach and I did that for two years and then I took over the team. In [my son's] fourth year in the GTHL, I became the head coach and I've been in that spot with him for six seasons as the head coach. I kind of always wanted to get involved, but I wasn't really sure if I wanted to commit that much time and how to do it. But once I was asked, then it was hard to say no."
Committing was the easiest thing for Weston, who quickly realized it was the many layers of coaching that he needed to learn.
"Once I got into the coaching, I realized there's a lot that I didn't understand. I didn't know about the coaching aspect, like how to communicate, get things over with the kids, the best way to introduce drills, and how to be effective with the kids – [such as] speaking and having them listen and learn," he shared of his start. "So I thought that took me a little while and I learned from some of the coaches there before I took over as a coach. It was more I thought I knew a lot about hockey and I realized I didn't know as much as I thought I knew."
Weston also shared one of the upsides of coaching – the experience of winning – describing it as a fantastic feeling.
"A few years ago, we won first place overall, but we never really had success in the playoffs. We usually make it second round and then we're out in the semi-finals. Over the last couple of years, we've been really about not worrying about the regular season to the team – it's just about having fun," Weston continued. "Let's build and really go push forward to the playoffs. This past season, we won every tournament we entered and then into the playoffs, this team, they were phenomenal. It was amazing. I'm so happy for them – for the families. The parents came up and said thank you just for giving their son the chance to win something, to win everything!"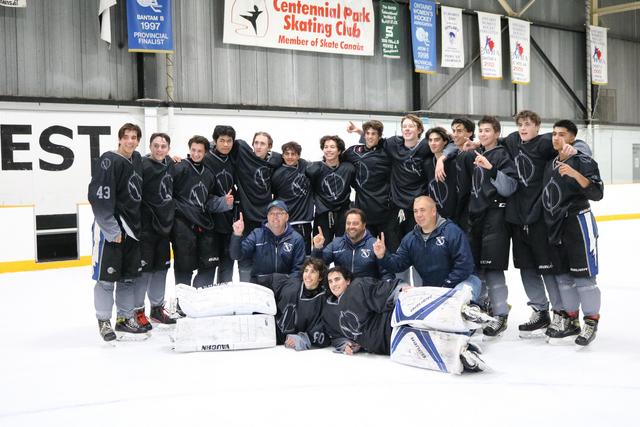 While he never won anything as a player, Weston offered that winning as a coach felt much better because of the team's work and effort.
As a coach, the objective for Weston is to make sure his players have fun, love the game as much as he does while providing them the skills to be successful hockey players.
"Winning is fun. Your hockey season is a lot more enjoyable when you are winning. But I never, ever coach with a 'win at all costs' [attitude]," Weston shared. "I think if we do the other things – have fun, love the game, learn to play the right way, the skills of hockey, and then I think winning comes with that."
Weston said when it comes to watching his sons play hockey, there is nothing more he enjoys more than going to the rink and seeing them play.
"I always joke with them that they'll ask me who my favourite NHL player is, and it's funny because I always say they're my favourite players," Weston explained. "It's hard because the older one is the last year. I don't know what I am going to do with my free time. This has been my life – for 12 or 13 years they've been playing organized hockey. There's nothing else that I would like to do on a weeknight or on a weekend than just watching them play hockey. I think I'm probably going to be in the stands when they're playing [men's league] hockey, still watching them play. They might be a little bit embarrassed about that."
For the season ahead, Weston said he is looking forward to coaching and hopes for the same success.
"Hopefully, it's going to be a nice, long run through the playoffs and hopefully repeat as back-to-back champions. That's our goal."
---