GTHL community represented in 21st Maccabiah Games
The Greater Toronto Hockey League was well represented at the 21st Maccabiah Games in Israel. The Games, which took place between July 12-26, featured Junior, Open (Men and Women), and Masters Hockey Maccabi Canada teams.
In total, 17 members from the GTHL community participated in the Maccabiah Games, including alumni, coaches, and current officials.
On Canada's gold-medal winning Junior Boys team, seven GTHL alumni were rostered: Dylan Bly, David Brandes, Jay Feldberg, Jeremy Hirsh, Jake Sederoff, Jack Silverman, and Cole Wineberg. On the bench was GTHL coach, Corey Tarnow.
GTHL alumni Jeremy Kofman and Matthew Shuckett represented on Canada's Open Men's team.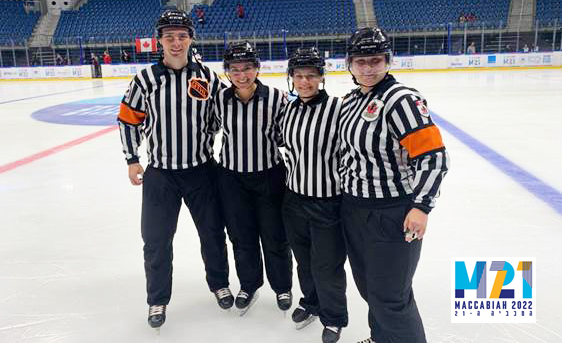 On Canada's Masters Men's team, GTHL coach Aaron Cohen was behind the bench as alumni Steve Forberg, Shawn Frydberg and company paved their way to gold.
GTHL officials Danielle Williams, David Katzman, Ross Meltzer, and Shane Steenhoek helped to make up the Games' officiating team.
The athletes are apart of a more than 500-member delegation from Canada, who joined a total of 10,000 Jewish athletes from 80 countries in the third largest sporting event in the world.
GTHL ALUMNI 
Dylan Bly (Toronto Jr. Canadiens)
David Brandes (Toronto Red Wings)
Jay Feldberg (Toronto Marlboros)
Jeremy Hirsh (Toronto Young Nationals)
Jake Sederoff (Toronto Titans)
Jack Silverman (Reps Hockey Club)
Cole Weinberg (North York Rangers)
Jeremy Kofman (North York Knights)
Matthew Shuckett (Duffield Devils)
Steve Forberg (North York Rangers)
Shawn Frydberg (Forest Hill)
GTHL COACH: 
Corey Tarnow (Toronto Red Wings)
Aaron Cohen (Goulding Park Rangers)
GTHL OFFICIALS:
Danielle Williams
David Katzman
Ross Meltzer
Shane Steehoek
---
Stay connected with the GTHL on Facebook, Twitter, Instagram, and TikTok.