Top 10 Rookie Classes
There's a youth movement happening in the NHL this year, with many future stars on the League's list of top scorers. We break down the best rookie groups in this week's Top 10.
10) 1980-81
Paul Coffey, Jari Kurri, Glenn Anderson, Larry Murphy, Denis Savard, Peter Stastny, Dino Ciccarelli
9) 1990-91
Mats Sundin, Sergei Fedorov, Jaromir Jagr, Mike Richter, Peter Bondra, Curtis Joseph, Rob Blake, Keith Primeau, Tie Domi
8) 1983-84
Steve Yzerman, Pat LaFontaine, Doug Gilmour, Cam Neely, Chris Chelios, Tom Barrasso, Kelly Hrudey,
7) 2005-06
The top two rookies each had over 100 points. We'll let you guess which ones.
Sidney Crosby, Alex Ovechkin, Henrik Lundqvist, Dion Phaneuf, Ryan Miller, Jeff Carter, Brent Seabrook, Ryan Suter
6) 1992-93
Teemu posted a modest 76 goals and 132 points in his rookie year.
Scott Niedermayer, Teemu Selanne, Eric Lindros, Sergei Zubov, Felix Potvin, Keith Tkachuk, Joe Juneau, Bill Guerin, Ray Whitney, Alexei Kovalev
5) 1991-92
Pavel Bure, Nick Lidstrom, Dominik Hasek, Rob Blake, Tony Amonte, John LeClair, Derian Hatcher, Vladimir Konstantinov
4) 2015-16
We're jumping the gun here, but the future looks bright.
Connor McDavid, Jack Eichel, Max Domi, Anthony Duclair, Artemi Panarin, Oscar Lindberg, Dylan Larkin, Colton Parayko, Sam Bennett. Five weeks into the season, each of these players has more points than Crosby. Ryan Strome will soo be a regular as well.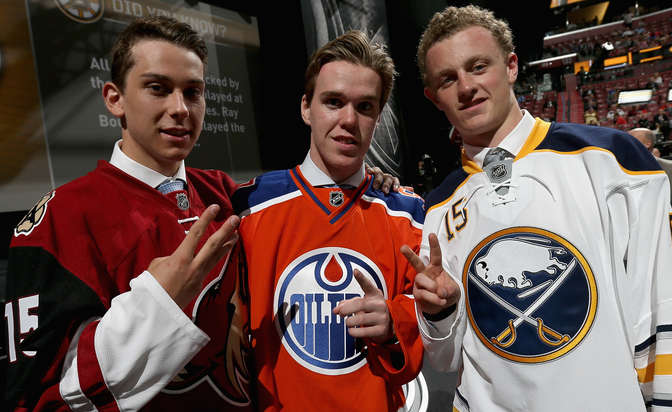 3) 2009-10
Presently some of the best NHLers at every position.
John Tavares, Jamie Benn, Matt Duchene, Erik Karlsson, Victor Hedman, Tuukka Rask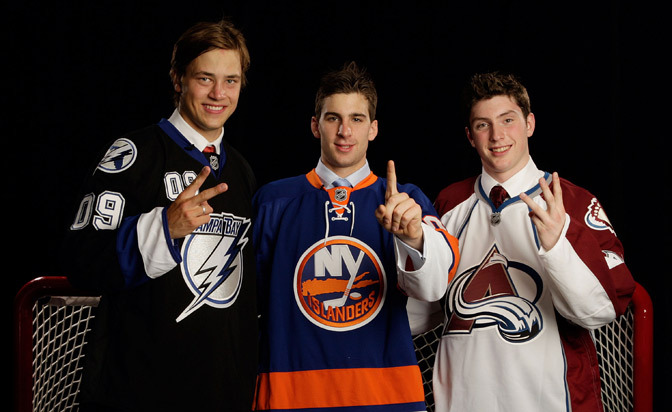 2) 2008-09
Steven Stamkos, Drew Doughty, Jonathan Quick, Pekka Rinne, Claude Giroux, Max Pacioretty, Jakub Voracek, Alex Pietrangelo, James Neal
1) 1979-80
Wayne Gretzky, Mark Messier, Ray Bourque, Mike Gartner, Mark Howe, Kevin Lowe, Duane Sutter