Congratulations to Shannon Crookston and Steve Bebis, finalists of My Hockey Hero Essay Contest presented by NewAge Products
The Greater Toronto Hockey League and NewAge Products are proud to congratulate Shannon Crookston and Steve Bebis for being named finalists of the My Hockey Hero Essay Contest. As finalists, both Shannon and Steve receive a Pro Series Mobile Utility Cart ($299 value) courtesy of NewAge Products.
Shannon, General Manager for the Scarborough Young Bruins and manager of three hockey teams, was nominated by Maclean Markham of the U15 'AA' Scarborough Young Bruins. In the essay submission, Maclean recognizes the incredible efforts Shannon puts forward to help organize not only their team, but two others as well. Additionally, Maclean credits Shannon for the Young Bruins' engagement in the community and with charitable initiatives throughout the season.
Steve, Head Coach of both the U11 'AA' Greater Toronto Capitals and the U7 Vaughan Rangers Select team, was nominated by U11 'AA' Capitals player, Matthew Zeppieri. With his essay submission, Matthew acknowledges the support and mentorship consistently provided by Coach Steve.
The finalist announcement comes following Raoul Fortier being named the My Hockey Hero Essay Contest presented by NewAge Products winner on October 21 during the GTHL Puck Drop Weekend festivities.
As the winner, Raoul, hockey volunteer for over seven years and current head coach of the U12 George Bell Select team, was the focus of an essay submitted by Isabelle Faucher. As the winning submission, Raoul is the recipient of the Pro Series 8 Piece Cabinet Set ($3500 value) courtesy of NewAge Products.
—
My Hockey Hero: Shannon Crookston
By: Maclean Markham 
Shannon Crookston is my hockey hero for many reasons. She has four kids of her own, her oldest son is on my hockey team. After our previous manager left, Shannon stepped up and helped our team rebuild. I am glad she stepped up because I think she is a good manager.
Shannon helps our team with orders, for example jerseys, track suits, and team clothing. She is well organized with planning team events and tournaments. She gets along well with players and parents, and is very approachable. She has been managing our team for about three years and she has done so much for the team in those few years. She organises our team photo day, and chooses what jerseys we wear and what photos we take. Shannon never really stops working for our team, during the fall, winter, and spring, we have regular season and playoffs and in the summer, we do dry land and training camp.
Shannon helps with all the paperwork, therefore, making sure people are properly signed up, and she makes sure everyone has paid. She keeps up with our parents and helps them to pay or sign up for the season. She works with the GTHL with all the team's information and paperwork. Shannon has all of her paperwork on a spreadsheet so it is organized. 
Whenever we have tournaments, we have team dinners and Shannon gets the reservation for the team. She also chooses the hotel that we stay in and makes sure it is close to the arena. She makes sure it is safe and enjoyable.
We have done many charities initiatives. We have been doing "love boxes." Shannon organized the delivery of the "love boxes." A love box is a box that is labelled by gender and age that is put together normally around Christmas time and they give the box to the assigned person. This person is in the hospital for the holidays and this charity is designed to cheer them up for the holidays. We do it every year and my hockey team really enjoys it. Shannon organizes us and helps us do community work, and we do many food drives throughout the year to participate in the community.
Shannon also manages more than one team; she manages three including mine, which means she does all of that for three separate teams in the Scarborough Young Bruins organization. Shannon is not just a manager, she is a friend and a parent. She knows everyone's name and always asks how you are doing. That is why Shannon Crookston is my hockey hero.
My Hockey Hero Nomination Submission: Steve Bebis 
By: Matthew Zeppieri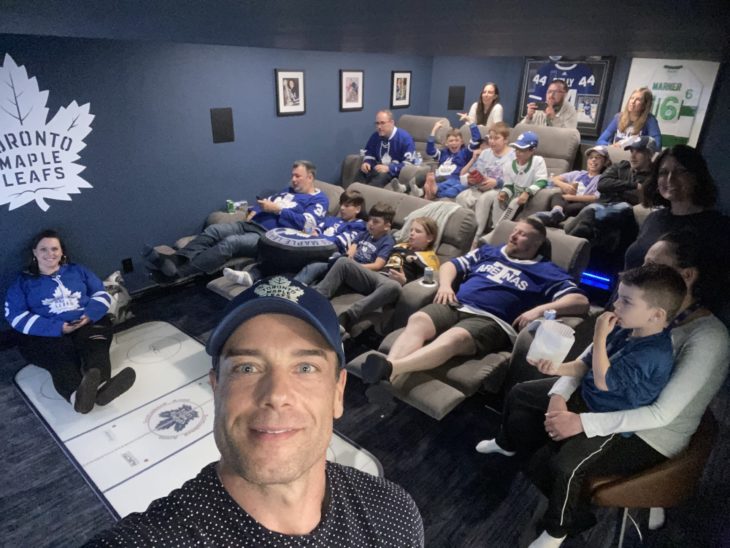 My Under-11 'AA' hockey coach, Steve, is my hero because he's not just a coach; he's a mentor, a friend, and someone I look up to. Coach Steve has had a big impact on my life, both on and off the ice.
First of all, Coach Steve knows so much about hockey. He's like a hockey encyclopedia! He teaches us everything, from how to skate faster to how to take the perfect slapshot. But what makes Coach Steve my hero is that he's patient and passionate. Sometimes, when we make mistakes, he does get frustrated, but only because he wants us to perform better. He pushes us to be our best, and that makes me want to do my best every time I step onto the ice.
Coach Steve also teaches us about teamwork. He says that hockey is not just about one player; it's about the whole team working together. He's always telling us to pass the puck and help our teammates. In our team meetings, he encourages us to define our individual and team goals collectively, something we can measure. That way, we have something we can all work towards, just like a championship we want to win!
Another reason why Coach Steve is my hero is because he's so dedicated. He always comes prepared with the right drills to work on our strengths and weaknesses. It's like he has a magical playbook just for our team! He cares so much about making us better players. Even though he's the head coach and is on the bench at all times, he's like a second dad to us, always there to support and encourage us.
Coach Steve's dedication is incredible. He not only teaches us about hockey but also about life. He asks us about our day at school and listens when we have problems. He even gives us advice on how to handle tough situations. I remember one time when I was feeling really down because we lost a big game. Coach Steve talked to me and said, "It's not about winning or losing; it's about always giving your best." Those words stuck with me, and now I try to give my best not just in hockey but in everything I do.
When it comes to our games, Coach Steve is right there on the bench, guiding us and shouting out encouragement. He's our biggest fan, and it means the world to us. Knowing that he's there, supporting us no matter what, gives us the confidence to do our best on the ice.
In conclusion, my U11 'AA' hockey coach, Coach Steve, is my hero because he teaches me about hockey, teamwork, and life. He's patient, passionate, and dedicated. He's not just a coach; he's a role model. I want to be like him when I grow up, both as a hockey player and as a person.
Coach Steve, thank you for being the best coach and hero I could ever ask for. Your dedication and support mean more to me than words can express, and I'm proud to have you as my coach and mentor.
---